St.
Pio Triduum

takes place in the Church of the Holy Redeemer on:
Monday 20th May:

Mass 7.30pm.
Tuesday 21st May: Mass and Anointing of the Sick 7.30pm.


Wednesday 22nd May:
Mass & Benediction 7.30pm.
Rosary at 7.10pm & Blessing with relic after Mass each evening.
All are welcome. St. Pio, pray for us.
---
FIRST HOLY COMMUNION
for the boys & girls of the Holy Redeemer school, will take place at 11am on Saturday
18th May
& Friday 24th May for the boys & girls of St.Brigid's School. Please keep the Children, their parents and families and the staff of our schools in your prayers as they prepare for these important faith 'moments'.
O, Jesus, Divine friend of children, we thank you for the grace you conferred upon Little Nellie by inspiring her with such great devotion to Your Sacred Passion, and such ardent love of the Blessed Eucharist. Grant, we implore You, O Lord, the fulfilment of Your designs regarding Your loving little servant, for your greater glory and for the santification of souls.
---
Do this in Memory Dates: We are delighted to welcome back 'Do this in Memory' a parish based sacramental preparation programme for first Holy Communion children. It is so important that home, school and parish work together effectively in the sacramental preparation process. Below you will find the future dates for the programme. Each Mass for 'Do this in Memory'ytakes place at 11:30am. We ask that the chldren and their families be seated at least 15mins before the beginning of Mass.
Saturday 18th May @ 11.00am
Sunday 2 June; Feast of Corpus Christi
---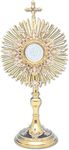 Adoration of the Blessed Sacrament : Each Tuesday eafter 10am Mass and the First Saturday of every month after 7:30pm Mass for one hour' in the Church of the Holy Redeemer
Adoration (Latin) is love given with deep affection. Eucharistic adoration is a sign of devotion to and worship of Jesus Christ, who is believed by Catholics to be present Body, Blood, Soul, and Divinity, under the appearance of the consecrated host, in the form of hosts or bread. As a devotion, Eucharistic adoration and meditation are more than merely looking at the Blessed Host, but are believed to be a continuation of what was celebrated in the Eucharist.
---
HOLY REDEEMER CHRISTIAN MEDITATION GROUP
Wednesdays at 8.00pm in the quiet room.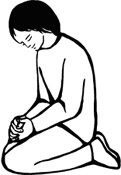 All are welcome.
---
Little Flower Prayer Group: Meeting each Wednesday morning at 11.00am in the Church. All are welcome.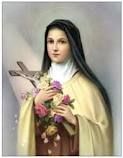 Therese of Lisieux is one of the patron saints of the missions, not because she ever went anywhere, but because of her special love of the missions, and the prayers and letters she gave in support of missionaries.
This is reminder to all of us who feel we can do nothing, that it is the little things that keep God's kingdom growing.
---